AITCC is able to cater for all functions from coffee breaks to formal dinners, cocktails and buffets. The main Restaurant has a seating capacity of some 200, and can be divided into two smaller sections. The Lobby Lounge, TV Room, Games Room and B144 can also be used for small events.
There is also the Coffee & Sandwich Bar serving snacks and drinks throughout the day, and special lunchtime Buffets, Noodle Corner and Salad Bar are held regularly.
AITCC dining weekly buffet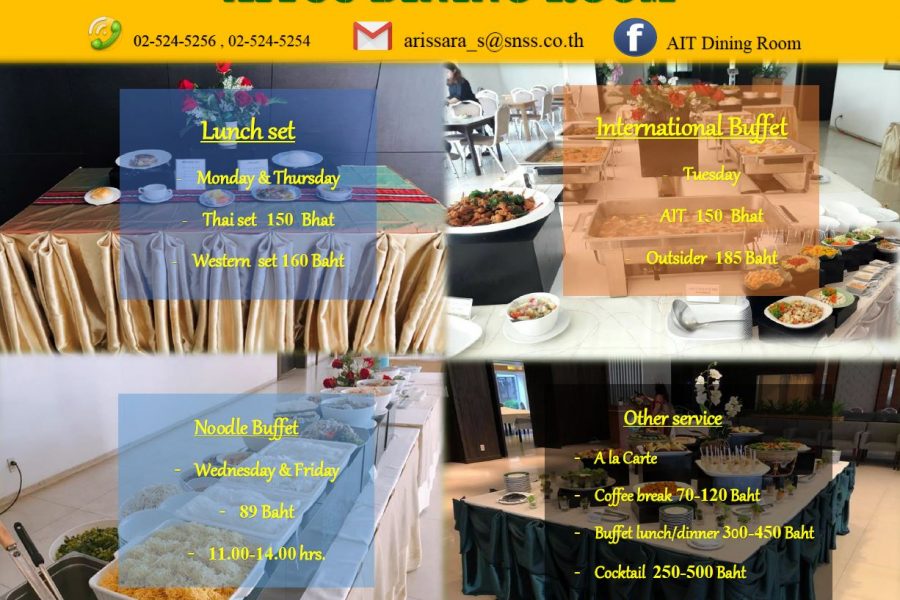 In addition, welcome drinks, pre-dinner cocktails, BBQs, course opening and closing dinners, packed lunch, birthday and weddings parties can all be provided and specially tailored to your needs and budget. 
AITCC rooms may be used for private functions for members of the campus community, but there will be a service charge to cover cleaning, utilities, use of equipment etc. Some food and drink must be ordered from AITCC.
 Also AITCC has a selection of crockery, cutlery, glassware and linen that may be rented for parties and gatherings at home & this is normally restricted to "on-campus" activities.
 AITCC will be pleased to quote for catering private parties at home, both on and off campus & please come to discuss.