AITCC Conference & Meeting Facilities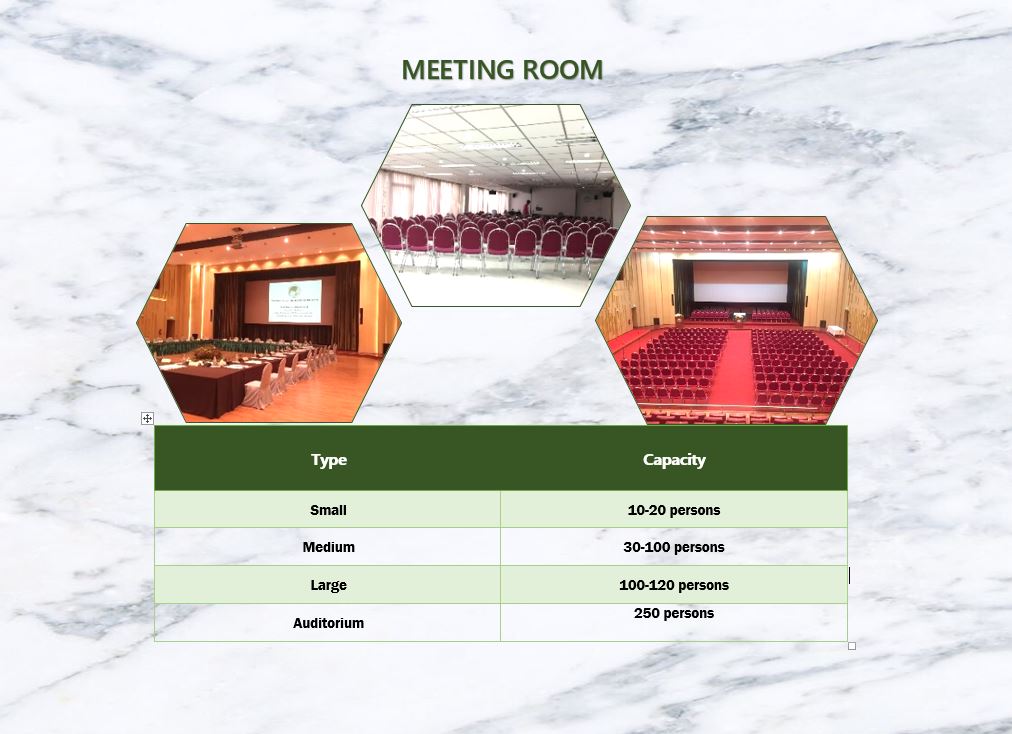 We are able to cater to a wide range of conference and seminar needs from 10-500 people, using our 12 small, medium and large functions rooms, together with the 500 seat tier auditorium.
All rooms are fully equipped with a whiteboard, pin-board, flip chart, screen, OHP, slide projector, sound system and speakers, and telephone. Additional equipment such as LCD, TV and VDO, tape recorder, etc. are available at a modest charge. Alternative room set-ups are possible, and AITCC staff will be happy to advise.
The upper and lower lobby areas may also be used for display and exhibition purposes, and for pre-function registration and coffee breaks – the ground floor has an area of 420 sq m, and upstairs an area of 260 sq m.
*All prices exclusive of  7% VAT.
The conference/meeting room sizes & their capacities are shown below:
Size

Room

Area (sqm.)

STYLE

Theatre

Classroom

small

B144A

30

N/A

15

B101

20

NO

NO

B102

30

NO

U 13 pax

B223

44

20

10

B204

60

30

20

 

President Lounge

 

20

15

Medium

B115

70

20

15

B225

88

50

30

B144B

98

50

30

 
 
 
 
 

Large

B202

120

70

40

B206

120

70

40

TV ROOM

113.8

60

45

B108

132

100

60

RBB AUDITORIUM

323

500

90